5 Reasons Self-Storage Is a Good Investment
Investors looking for a commercial real estate option that typically yields consistent returns will want to consider self-storage. Although it might not be the first commercial property type that comes to mind, there are significant opportunities both for larger, institutional investors and for smaller investors.
Michael Mele, a First Vice President Investments at Marcus & Millichap's Tampa office, is a specialist in the self-storage market, and has seen the industry through both good and bad times. He notes that a variety of factors make Florida a particularly lucrative market for self-storage.
"Florida is the perfect place for the self-storage industry," says Mele. "You have tremendous transition with people moving in. Even the people who are already here tend to go from apartment to townhouse, to home to a bigger hoe at a much faster pace than you see in the northeast and other parts of the country.
"There's no real stigma attached to self-storage in Florida," adds Mele. "Many homes here do not have basements or a lot of on-site storage. However, due to the lifestyle here, people have more 'stuff,' such as boats and recreational vehicles. You see this more in the south than in the north. Over the years it's just become a more acceptable thing to have one of these units to hold your possessions."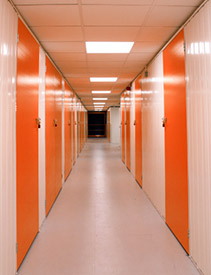 Here are five reasons self-storage is a good investment choice:
An attractive option in up-and-down markets. There is a demand for self storage whether economic growth is high or low. Consumers that are downsizing or losing their homes tend to need self-storage, and consumers who are upgrading their homes often use self-storage during transitions.
Adjustable offerings based on conditions. "You can adjust the size of the units if the storage is built right. So during the recession, a lot of facility owners were marketing to more businesses rather than households," says Mele. "Businesses might be scaling down from a 3,000-square-foot industrial building to a small office and would get a couple of units in the meantime."
Far simpler to manage and maintain. Compared to managing a hotel or apartment complex, the overall management of a self-storage property is far less complex. Self-storage facilities have less maintenance, lower utilities, easier-to-manage turnover, and easily adjustable rates.
Comparable rates to other properties. The overall rent per square foot on a self-storage facility is comparable to an apartment. Paired with lower maintenance costs, this makes the offering very compelling. In addition, owners are often able to boost revenue with add-on services such as postage, shipping services, insurance, locks, and truck rentals.
Opportunities for smaller players. Although institutional investors have a large portion of market share, there are still opportunities for individual investors to acquire smaller, niche facilities. "We have more individuals coming into smaller properties that are a little older and doing well with them," says Mele.
Mele brings an extensive knowledge of self-storage properties and the Florida market to help you close the best possible deal. Plus, Marcus & Millichap provides detailed resources, research, and a marketing platform that's second-to-none. The combination means that storage property owners who are looking to sell will be able to get the best sale possible.
"We come up with a plan and then make sure we maximize every last bit of value — whether it be through reducing expenses, getting that occupancy up, or other initiatives," says Mele. "Then through our platform, we can bring a vast pool of potential buyers, so sellers can select the buyer who brings the best offer for meeting their goals. This is especially valuable for the smaller players."
[cta]Marcus & Millichap is committed to helping our customers succeed. Investment specialist Michael Mele focuses exclusively on providing investment advisory and transaction services for self-storage properties. Contact us by email or at (813) 387-4700 to learn how we can help you.[/cta]