5 Critical Steps to a Successful Closing
Marcus & Millichap has been party to just about every form of buyer/seller interaction and closing procedure. As a result, we have developed a highly efficient process to ensure smooth closings. Our process, refined over many years of managing commercial real estate transactions, starts with accurate information and communication, buyer qualification, and leads all the third parties through to a successful closing.
Chris Travis, a Senior Associate specializing in retail properties at Marcus & Millichap's Orlando office states: "There's one aspect of navigating a successful deal that's particularly important — it's all about the relationships. I endeavor to build a close relationship with each client and make certain they know that I will do whatever it takes to fulfill their needs," adds Travis.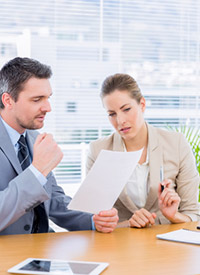 In addition to building relationships, Travis believes that a successful deal lies in the details: the many tasks that need to be completed to bring the deal to fruition. Travis lays out five critical steps that take a deal from the seller's initial inquiry to closing.
1. Prepare on the Front End
Obtaining complete books and records is the first step to a successful closing. "It's in the seller's best interest to give us all the relevant property data so there are no surprises during due diligence," says Travis. "Problems do not kill deals, but surprises will, so we require sellers we work with to provide us with the detail we need prior to starting the marketing process".
2. Qualify Buyers Thoroughly
Experienced brokers will never advise their seller to go to contract with a buyer unless they understand the details about the buyer. Not only must the buyer be qualified, but we also need to understand how they are underwriting the asset, their sources and costs of debt and equity, return requirements, and track record of closing historically, as well as their risk tolerance. When we can understand the buyers' needs and mindset fully, we can then advise our sellers appropriately as to which buyer they should move to contract with.
3. 1031 Buyers Can Be a Double-Edged Sword
A buyer in a 1031 exchange will most likely be making multiple offers and putting several deals in contract, explains Travis. "We ask the buyer the right questions to uncover how many properties they are making offers on and how many they plan to close on." We always verify exchange funds with the intermediary and try to understand how our seller's property fits within the 1031 buyers priority scale.
4. Pick a Broker with Third Party Contacts
The broker should have established relationships with an efficient team of professionals who will help keep the transaction moving forward smoothly. The broker needs to be able to quarterback all the third parties to a transaction — everyone from environmental inspectors to surveyors. "For example," Travis says, "we try to get aligned with our client's attorney from the beginning to establish protocols for contract turnaround timeframes."
5. Pick a Broker Who Works Closely with a Mortgage Broker
Buyers who make all-cash offers are great, but the downside is they also want discounts because of their offer to do a deal with no financing. This makes financing a deal very important, because sometimes the best buyers also require financing to hit their return requirements. As a part of our buyer qualification process, we have our Marcus & Millichap Capital Corporation representative meet with and understand the buyer's objectives. This allows us to make sure they are on the right track to secure the financing they need to hit their yield requirements, as well as to ensure the proceeds are there at closing for our sellers.
[cta]Need help buying or selling a property? Contact Marcus & Millichap for experienced, personalized help with your commercial real estate investment needs.[/cta]