Golf Properties Are on the Upswing
Investors are always looking for opportunities to purchase at the start of an upward trend — which currently describes the market for golf courses. Golf properties were hit hard in the recent Great Recession, however, golf is now showing significant signs of improvement.
"The golf industry has been in a state of recession since 2006. Typically golf is the last to go into a downtrend and the first to come out. During this recession, once we went in, it was hell getting out," says Steven Ekovich, Vice President and Managing Director of the National Golf & Resort Properties Group (a division of Marcus & Millichap). "We've had six straight years of decline in revenue and EBITDA, causing tremendous financial stress throughout the industry."
Ekovich estimates that distressed assets prices in the golf market have decreased between 40-65% since 2006, resulting in an average transaction price decrease from $7.2 million to $4.2 million. *You can read more about the specific data points in this Bloomberg interview with Ekovich.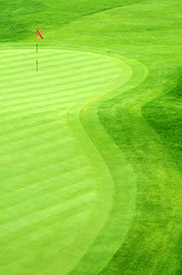 "Unfortunately, most golf course values declined by approximately 50% from their high in 2006. In addition, many courses were operating with a negative EBITDA, resulting in loan defaults or the inability to meet loan balloon balances", says Ekovich. "When launching the National Golf & Resort Properties Group in 2009, as many golf properties were in distress and being foreclosed by lenders, we were able to step into the golf arena working with those lenders and sellers by developing a unique market approach not seen in the golf industry before."
A Good Time for Golf
Now may be one of the best times in nearly a decade to invest in golf properties: Values are down and we are at the very bottom of the up-cycle. As venture capitalists are searching for better yields than traditional commercial real estate, we are also seeing more first-time buyers than in years past joining the fray. Unlike other commercial investments, the first-time golf course buyer has several unique factors to consider:
Business Management — Unlike owning a net-leased retail establishment requiring minimal on-site management, owning a golf property is more complex. Golf management/ownership consists of a variety of revenue streams, employee types, and various internal businesses to manage.
Multiple Businesses in One — Golf courses typically operate a minimum of six businesses in one: the pro shop/greens fees, driving range, private lessons, food and beverage, and banquet and event services, as well as a retail shop. In some cases there is also a pool, tennis academy, etc. In addition, private courses and some semi-private courses require the management expertise to retain and grow members, as they are the life blood of a private course.
Grounds Management — A golf course owner, or management team, must have a working knowledge of properly maintaining course grounds. For example, the owner or manager must be cognizant of daily green conditions with an understanding of course irrigation and drainage, as well as how weather affects the agronomy daily. That is why courses have superintendents to take care of the turf and stay ahead of agronomic issues.
Location — A golf course owner must have an understanding of how the course rates compared to local competition. The National Golf & Resort Properties Group (NG&RPG) educates prospective buyers regarding local competition and offers insight on how to effectively grow the course EBITDA through growth of membership or daily-fee players or through banquets, outings, and food and beverage.
Capital Expenditure Requirements — While there are golf properties on the market that do not warrant immediate improvements, distressed courses will require additional capital funds to enhance the course. NG&RPG Investment Advisors consult prospective buyers on where to make capital investments that will increase revenue and build a positive EBITDA, offering the new owner a positive ROI in the shortest amount of time.
Partner with Industry Experts
When considering a niche investment type such as a golf course, it would be prudent to consult with golf course experts who are renowned within the golf industry. In 2009, Steven Ekovich teamed up with Christopher Karamitsos, PGA Professional, to form the National Golf & Resort Properties Group. At the time, there was no precedent of a golf-only dedicated team within the commercial investment broker space. Over the course of the past 44 months, NG&RPG has sold 55 golf courses nationally and currently has an additional 10 courses under contract.
Ekovich continues, "I was a regional manager for Marcus & Millichap for over 17 years. During that time, we had many clients who owned golf courses acquired through passion buys, vanity buys, or through the acquisition of portfolio properties, but no way to monetize those assets." With Chris' PGA background and Steve's brokerage expertise, they developed a way to respond and meet the needs of their client base, golf course owners and prospective purchasers, with an unprecedented platform to sell and purchase golf courses.
Golf property owners who have been thinking of selling may want to consider that option now, as many new investors are searching for entry into this unique market. Prospective owners and sellers alike will benefit from the expertise of the National Golf & Resort Properties Group platform, consisting of asset management pricing, direct marketing to a database of over 16,000 investors locally, regionally, nationally, and internationally, as well as transition management, consulting, financing, and research.
[cta]To learn more, contact National Golf & Resort Properties Group (a division of Marcus & Millichap) now for a Broker's Opinion of Value and consultation to set a strategy for sale of your property.[/cta]