How Does Adding Multi-Family to a Portfolio Help Stabilize Risk?
A conversation about risk isn't as sexy as imagining your next dream investment. Sometimes, newer investors are looking for the lottery type of win — the diamond in the rough that will yield a drastically above-market NOI with relatively little renovation.
But the reality is that investing is much more like a game of chess. Success comes from a strategy of consistent, practical decisions made over the course of many years that lead to profitability and stability.
Have you stepped back and looked at your portfolio's potential risk lately? What percentage of your portfolio do you need leased to hit your break-even ratio (BER)? And how could market shifts potentially tip the scale? In addition to income risk to you, overall portfolio risk is a red flag for lenders and should be watched closely.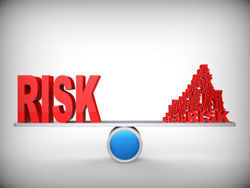 Francesco (Frank) Carriera, vice president of investments with Marcus & Millichap, explains how adding multi-family properties to an investor's portfolio can decrease risk.
People need a place to live. It sounds simplistic, but investing in properties that are tied directly to people's livelihood means there will always be a demand."Historically, multi-family has always been a more stable investment in the world of commercial real estate, because everyone always needs a place to live," says Carriera.
Lease volume spreads risk. Obviously, if you have a major office building with only a few units, one or two vacancies creates a significant risk. A multi-family complex with hundreds of units can easily handle a few vacancies and remain profitable while you deal with that turnover.
Multi-family demand is no longer driven by an up-and-down economy. A few decades back, an up economy was bad for multi-family owners because people preferred owning over renting.But today, many white-collar professionals live transient lives, place a high value on convenience, and don't want to commit to home ownership. In an up economy, professionals are looking for new jobs and new living space, especially higher-end units.
"The apartment market is very strong right now. As home prices rise, we're seeing a pent-up demand for apartments. There are 6,000 units coming online right now in the Tampa area," says Carriera. "In that market, there's demand for all that and more right now."
With low vacancies nationwide, and a shift in values in which home ownership isn't always the goal, multi-family is well-positioned to continue to offer strong yield and overall portfolio stability.
[cta]Where is the pocket of risk in your portfolio? Marcus & Millichap experts can give you information that will help you set and meet your financial goals. To learn more, contact Frank Carriera at Francesco.carriera@marcusmillichap.com.[/cta]