Opportunity Abounds in the Self-Storage Market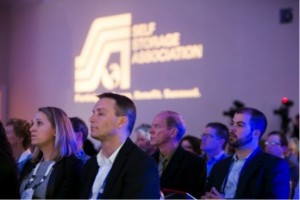 In September, The Mele Group attended the Self Storage Association (SSA) Conference and Trade Show in Las Vegas. With so much going on at the show, a few of our 10 team members in attendance wanted to share their thoughts and insights on the event. They engaged with many show participants who were excited about this hot asset class — and those who are analyzing trends that may affect the self-storage market in the coming years.
Financial Analyst Kelly Russano picked up on the fact that low interest rates are making purchasing easier for investors. She explains that we are also at a time where physical occupancies are at record highs.
"The combination of these physical occupancies with low interest rates and lease-up times being shorter than they have been in the past creates an opportunity for some investors to take advantage of this competitive market," Russano says.
Senior Vice President Mike Mele noticed that competition has increased in most markets, with larger operations spending on marketing and technology platforms.
"The current climate continues to be difficult for smaller operations to compete," Mele says.
Development and C/O deals were hot topics with many owners at the conference.
"They wanted to get a handle on real new development, not just what is being talked about in pre-planning stages," Mele adds. "This was compounded by the fact there was a record number of attendees, the most in the SSA Conference's 10 years, with nearly 2,100 from all over the world looking for ways into storage."
Director of Operations for the Mele Group, Tara Paronto, adds, "Cap rates are still dropping — not only compressing in primary markets, but now in second and third tier markets."
It seems though everyone wants to be involved in the self storage industry. For those looking for a self-storage market forecast, Senior Analyst Brian Fulton mentioned the Warren Buffet quote Public Storage CEO Ronald L. Havner Jr. cited at the show: "Be fearful when others are greedy, and be greedy when others are fearful."
Although it's unknown how long the self-storage ride will last, Fulton acknowledges that the highs we're seeing now will come to an end at some point in time.
Regardless of whether they were eager or cautious about the market, all attendees were aware of the level of risk they might run if they jump into a transaction with the wrong broker. Associate Director Luke Elliott notes that the trade show was a prime example that self storage is an asset class unto its own, requiring specialized knowledge and expertise.
"In these frothy times, we have seen inexperienced and often unscrupulous brokers emerge onto the scene who are clearly looking to grab a fee and do not have the best interests of their clients in mind," Elliott explains. "Now is not the time to make mistakes, but to make sure that good decisions are being made and the consequences are being considered."
The Mele Group is committed to staying on top of market trends and industry changes. The SSA Conference is a crucial focal point that brings together all the players in this dynamic market and shines an intense light on the trends, expectations and opportunities for self-storage owners.