Live-Work-Play Space Drives Downtown Tampa's Rental Market
Whether they're millennials or retirees, renters are increasingly attracted to the work-live-play environment in downtown Tampa. The city's many amenities and mixed-use spaces have driven the downtown rental market, creating attractive opportunities for multifamily investments.
"People want walkable amenities," says Michael Regan, first vice president investments and senior director of the firm's National Multi Housing Group. "That's why we're seeing growth in downtown Tampa."
But of course, more than amenities affect the multifamily rental market.
Interest rates affect rents
Even as the Federal Reserve talks about raising interest rates, Regan has found that rents are rising faster than interest rates.
"This prevents the significant drop in value that we would normally see with rising interest rates," he says. "The market is still strong."
Interest rate hikes can affect value, however, if rates increase but income doesn't.
Because it's becoming harder for millennials to buy houses, renting has become an increasingly attractive option. Even members of the 55-plus market — including retirees or those who sell their homes to invest the equity — are renting, rather than buying. Renting is becoming a more common choice, and this increased demand for rentals could dilute the impact of rising interest rates.
Downtown Tampa's appeal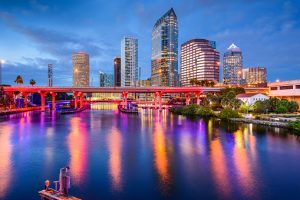 Tampa city leaders have made the redevelopment of the downtown area a priority. Along with museums, performing arts centers and theaters, downtown Tampa also offers the exciting new Riverwalk area and the popular Tampa Bay Lightning hockey team — and is home to many multinational corporations.
Multifamily spaces take advantage of these amenities and offer their own.
"Walkability, central access to live-work-play spaces and bigger pools and dog parks create value," says Regan. "Rents are trending up at about 6 percent growth year over year. Tampa is above the national average."
Advice for investors
If you're thinking about entering the multifamily market, you should consider a couple fundamentals: Know the market and determine whether it fits your objectives.
"This is a stable market that has absorbed the demand well," Regan says. "Identify what type of investor you are, what you're comfortable with and your tolerance for risk. Define what's important to you."
[cta]The Carriera Regan Group advisors are highly focused on multifamily assets and can help you make sense of the multifamily market. To discuss your investment goals, plans and next move, contact us online or give us a call at (813) 387-4800.[/cta]